There are two types of  custom pages you can create in your Pulse Commerce site: 
The first type is custom dynamic pages. These use the template design of your storefront. You can edit the page contents, page title, keywords, and meta tags, as well as control whether the pages automatically appear in a specific links group and whether they are available to members only.


The second type is custom static pages. These are designed by you, using whatever software you choose and uploaded to a location on the server, where you can link to them from other pages in your site.
To create a new custom page:
Content > Custom Pages.


In the Custom Pages Editor window, complete the fields as needed to create your custom page.

 
Note: when Display Format 1 is selected, Custom Page displays without the website shell.
If the Display Format 2 is selected, Custom Page dynamically displays the website shell.


Click the Add New button.
Members Only
On the custom page editor, there's also a Members Only checkbox: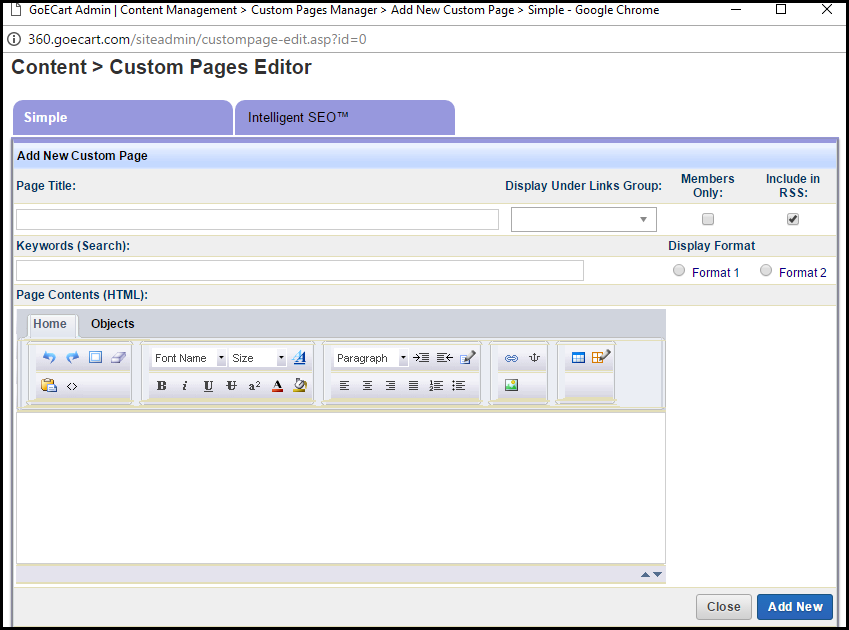 This checkbox allows you to set certain custom pages to only be accessible via customers who have already logged on. If a customer accesses a custom page with the Members Only toggle, they will instead be redirected to the customer log in portal when trying to access the custom page: