There are a wide array of reports related to your Pulse Commerce storefront:
Sales Report
SKU Report
Store Activity Report
Inventory Report
Low Stock Report
Out Of Stock Report
Fulfillment Report
Vendor Sales and Cost Report
Shipping & Tax Report
Repeat Customers Report
Affiliate Referral Report
Searched Terms Report
Checkout Survey Report
Softgood Fulfillment Report
Gift Certificates Report
V360 supports a wide array of reports related to your Pulse Commerce. Reports are divided into standard and custom reports.

Standard Reports are further classified into 4 subsections: Inventory, Purchasing, Sales & Returns.
Inventory includes all reports that give data associated with Product Inventory:   
Current Inventory Status (Simple)
Wholesale Stock List (Simple)
Items Backordered (Simple)
Items Backordered (Advanced)
Items Pending Fulfillment (Simple)
Items Pending Fulfillment (Advanced)
Inventory – Profitability

Purchasing includes reports that give information for purchase orders, vendors, and vendor sales:
Purchase Order Vendor Summary
Purchase Order Item Summary
Vendor Product Sales Performance
Vendor Sales Performance Comparison

Sales includes reports that supply statistics for sales based on customer, items etc.:
Shipping & Sales Tax Analysis
Sales Orders Customer Summary
Sales Orders Daily Summary
Sales Orders Item Summary
Zero Sales Item Summary
Discount Codes Performance
Product Cross Purchase Analysis
Sales Channel Gross Margins

Returns includes reports that provide information on return orders:
Returns Item Summary
Returns Daily Summary
Returns Customer Summary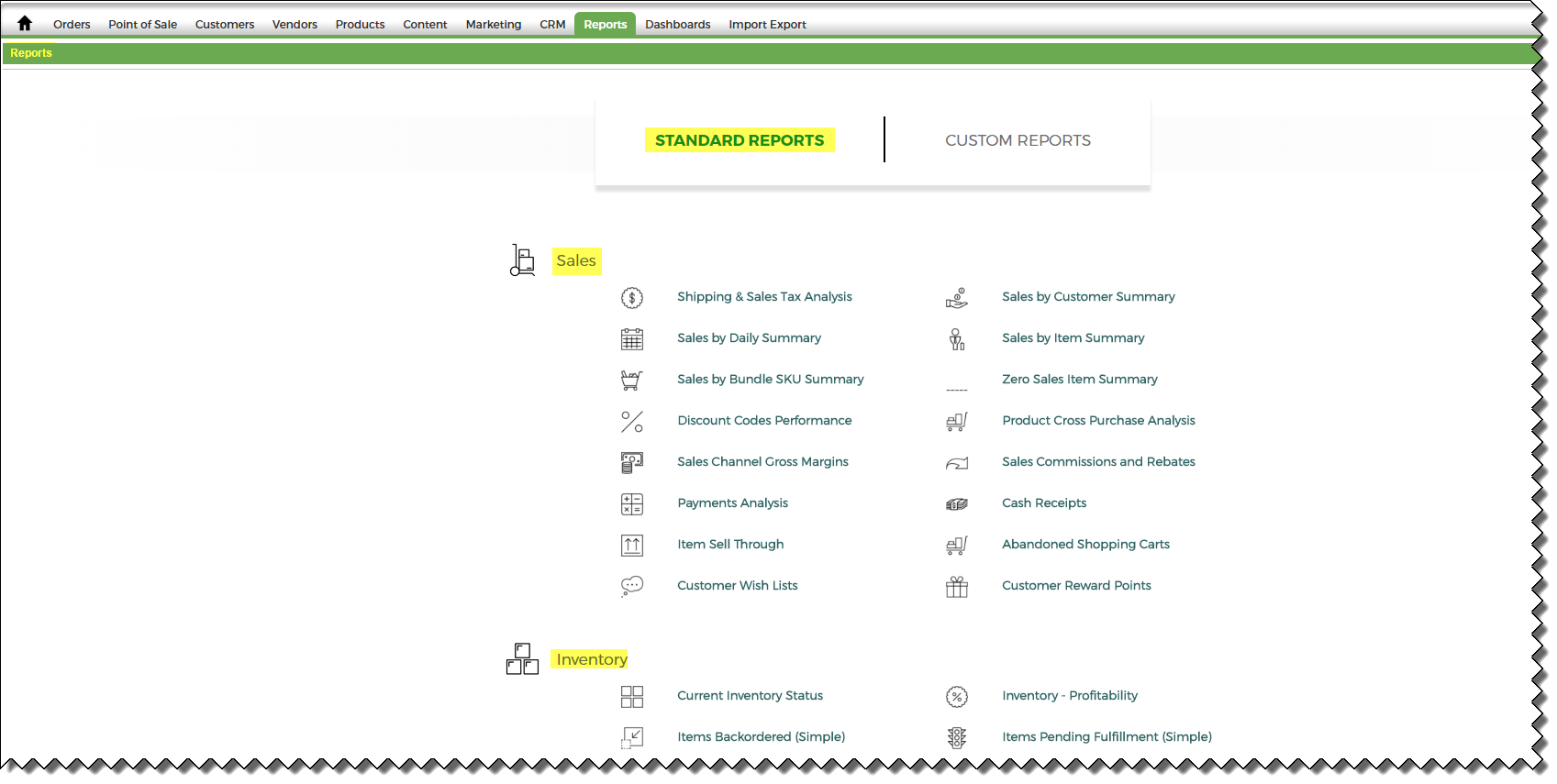 Custom Report:  v360 supports reports that can be customized and stored for future use. For example, v360 supports Sales order daily summary report – which gives detailed information about sales on a daily basis. The daily sales report includes only order date, number of orders, number of units sold and gross profit. It is possible to customize the Sales order daily summary report as per your requirement. Such customized reports are stored as Custom Reports.